Oelwein Public Library Art Show
THE 7th ANNUAL OELWEIN PUBLIC LIBRARY ART SHOW
June 5th – June 16th 2023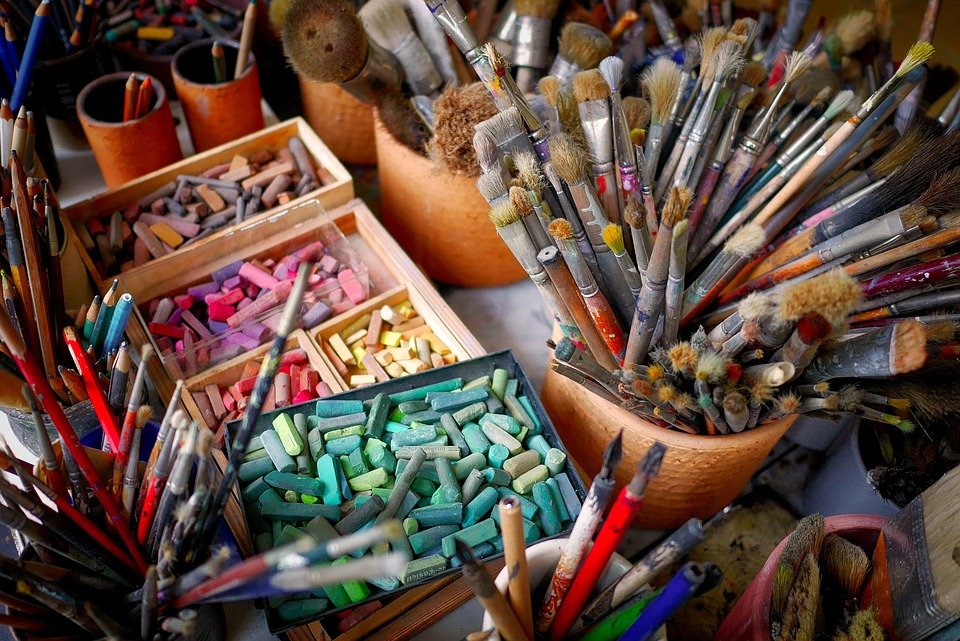 The Oelwein Public Library is pleased to sponsor its seventh competitive Art Show. The Art Show will be held in the main floor of the library.
GENERAL RULES:
1. All entries must be delivered to the Oelwein Public Library at 201 E. Charles St. in Oelwein, Iowa. Participants may bring in their artwork during library business hours
May 30th – June 1st. All entries must be in by 12:00 p.m. on June 3rd. Library business hours are: Monday & Tuesday 9:00 a.m. to 8:00 p.m., Wednesday & Thursday 9:00 am - 7:00 pm, Friday 9:00 am - 5:30 pm, and Saturday 9:00 pm - 3:00 pm. This year's show will run from June 5th – June 16th, 2023.
2. There is no entry fee. Works may be sold, but not removed from the show prior to its conclusion. Entries are limited to two per person. All entries must be framed and ready to be hung except for students' work.
3. Each entry must be the original work (no prints) of the entrant and must have been completed within the past two years.
4. Entry size must not exceed 48 inches in any direction (unframed).
5. IDENTIFICATION TAGS are to be attached to the BACK of the picture. TITLE TAGS are to be attached to the FRONT BOTTOM RIGHT CORNER. Please attach your tags before bringing them to the library.
6. The library will use customary care in handling entries but will in no case be responsible for the loss or damage of any artwork. Prints may be left in bags until hanging. Please mark your bag with your name.
7. Judging will take place Friday, June 9th. Winners will receive ribbons. Voting for the PEOPLE'S CHOICE AWARD will be June 5th – June 9th. The public is allowed one vote for their favorite artwork. People's Choice will be awarded at the same time as the ribbons. Artwork will remain on display for one week following the awarding of ribbons.
8. Entries must be marked NFS, if not for sale, but with the value listed in parentheses. If entry is for sale, indicate asking price on both the IDENTIFICATION and TITLE TAGS.
9. Art purchased by the Oelwein Public Library will become property of the library and will be made available to our patrons for check out. The library reserves the right to display, check out, and withdraw or sell the art work without the artist notification.
10. Due to space limitation, every effort will be made to make sure each piece of art is displayed, for judging, at the show.
11. Deadline for picking up artwork is FRIDAY, JUNE 24TH.
Please mark your art work as one of the following categories:
MEDIUMS:
Painting - oil or other opaque mediums (acrylics)
Painting - watercolor or other transparent medium
Drawing - ink or pencils or pastels or other medium (prismacolor)
Ceramics- All original clay and porcelain work other than jewelry is accepted in this category. No machine-made or mass produced work is permitted. All works must be signed.
Wood- Original works in wood that are hand-tooled, machine-worked, turned or carved are accepted in the wood category.
Sculpture- Three-dimensional original work done in any medium.
Photography- Photographic prints made from the artist's original image, which have been processed by that artist, or under his or her direct supervision, are included in this category.
Digital art –an original work in which the original image was executed by
the artist using a computer (only images produced by the participating artist are acceptable - participants' drawings or paintings).
CLASSES:
Professional – person who has participated in gallery showings and has regularly
sold their work or has been commissioned for work
Amateur – person who engages in art as a hobby or pastime
Novice - first entry in any art show
Student - Secondary (9th - 12th grade)
Student - Elementary and Middle School receive a Participation award
Printable Rules and Registration here.