Directory Information
201 East Charles
Oelwein, IA 50662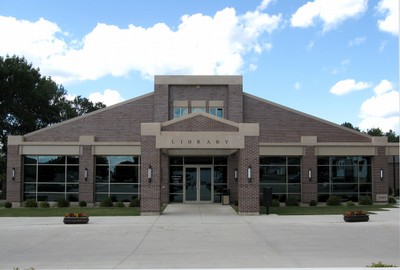 Phone: 319-283-1515
Fax: 319-283-6646
Email: oelwein@oelwein.lib.ia.us
Library Hours
Monday: 9:00 am-8:00 pm
Tuesday; 9:00 am-8:00 pm
Wednesday: 9:00 am-7:00 pm
Thursday: 9:00 am-7:00 pm
Friday: 9:00 am-5:30 pm
Saturday: 9:00 am-3:00 pm
Sunday: Closed
Library Staff
Susan Macken - Library Director
Katie Harris - Assistant Director
Katie Schuelke - Children's Librarian
Lori Hahn - Assistant Librarian
Deann Fox - Assistant Librarian

Library History

In 1909, a library association was formed in Oelwein with $1.00 memberships. In 1911, the Free Public Library of Oelwein was formed when the city took over ownership and Mayor J.F. Cole appointed a board of trustees. The library was open on the second floor of city hall, six days a week from 2-4 and 7-9 p.m. Miss Pearl Schneider was the first librarian at a salary of $30 per month.
One book at a time . . .
. . . could be checked out, free of charge, for five days. This was later amended to two books - one fiction and one non-fiction. Later a rental shelf was added from which books went out at a fee of three cents a day. Books remained on this shelf until their original cost was reimbursed. Any books in homes stricken with diseases requiring quarantine were destroyed.
In 1914, electric lights were installed. In 1917, the books were catalogued using the Dewey Decimal System. In 1927, the Oelwein Library joined the American Library Association.
The first Oelwein library building . . .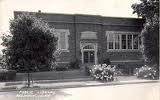 . . . at 22 1st Avenue N.W., was completed in 1929 at a cost of $40,000. Raymond F. Moore of Cedar Rapids was architect and J.C. Mayer of Clarion was general contractor. Board members were Robert Connor, Mrs. A.C. Wilson, Miss Mary Wood, George W. Falk, and E.R. O'Brien. The salary of the librarian was increased to $100 per month and the assistant to $50.
In 1951, a children's room was created in the lower level, and in 1961, the Northeast Iowa Art Association decorated it with murals.
In 1964, county money was obtained to provide library service to rural areas of Fayette County. In 1965, an Oelwein bond issue of $38,000 allowed remodeling of the adult section including installation of a balcony , new office, new circulation desk, new carpet, and many new book shelves. An open house was held in April of 1967.
In 1973, Oelwein's centennial year, Mrs. Doris Felix became the librarian.
In 1998 the circulation was automated . . .
. . . with the Winnebago Spectrum computer program.
In July of 2002, Iowa's first lady, Christie Vilsack, visited the library when she stayed in Oelwein with Ragbrai.
In 2005, the Board of Trustees purchased property for a new building. Board members were president Steve Peik, Linda Ridihalgh, Dennis Pixler, Dianne Frazer, Lori Leo, and Mike Kerns, City Council Liaison. Vivian Petrik-Koloc was director. The new building would have double the space and geothermal heating and cooling and would be completely handicap accessible. Novak Design Group of Cedar Rapids was chosen as architect. Larson Construction of Independence was chosen General Contractor. Ground was broken on August 3, 2005.
The new (second) building . . .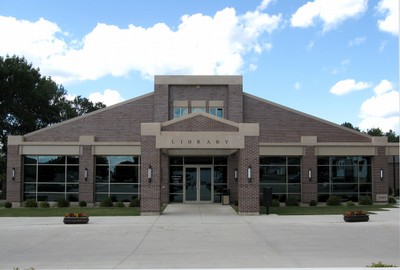 . . . at 201 E. Charles was completed in July 2006 at a cost of approximately $2.9 million. The original circulation desk from the 1929 building found a home in the children's area of the new library. Susan Macken became library director in October, 2006.
Interested in more history? Check out the Iowa Historical Society.