Directory Information
201 East Charles
Oelwein, IA 50662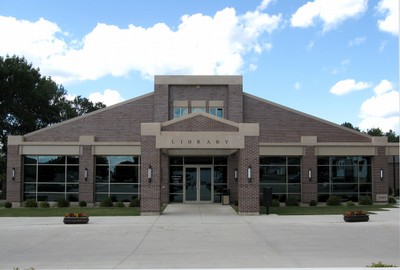 Phone: 319-283-1515
Fax: 319-283-6646
Email: oelwein@oelwein.lib.ia.us
Library Hours
Monday: 9:00 am-8:00 pm
Tuesday; 9:00 am-8:00 pm
Wednesday: 9:00 am-7:00 pm
Thursday: 9:00 am-7:00 pm
Friday: 9:00 am-5:30 pm
Saturday: 9:00 am-3:00 pm
Sunday: Closed
Library Staff
Susan Macken - Library Director
Katie Harris - Assistant Director
Katie Schuelke - Children's Librarian
Lori Hahn - Assistant Librarian
Deann Fox - Assistant Librarian

Library History
In 1909, a library association was formed with $1.00 memberships. The library opened on the second floor of City Hall with donated books. Miss Pearl Schneider became librarian at a salary of $30.00 per month.
On May 8, 1911, the Free Public Library of Oelwein was formed when the city took over ownership and Mayor J. F. Cole appointed a board of trustees. The library was open six days a week from 2-4 and 7-9 p.m. In 1914, electric lights were installed. Miss Mary Fuller served as the next librarian.
In 1917, the books were cataloged using the Dewy Decimal System. Miss Ruth Gibbons was hired as librarian at the salary of $60.00 per month. In 1918, Miss Orabella Woods was chosen librarian followed by Mrs. Charlotte Bryant in 1919 at a salary of $70.00 per month. Mrs. Bryant was allotted $5.00 per month to secure assistance, and the library board purchased land for a proposed new building.
In 1922, Mrs. Elizabeth Gleason was named librarian at a salary of $65.00 per month. She was allotted $10.00 per month to secure help.
In the beginning years, books were checked out free of charge, one book at a time for a period of five days. This was later amended to two books - one fiction and one non-fiction. Later, a rental shelf was added from which books went out at a fee of three cents a day. Books remained on this shelf until their original cost was reimbursed. Any books in homes stricken with diseases requiring quarantine were destroyed.
In May of 1925, the board entertained the Library Association District Convention at the Hotel Mealy at a cost of $20.25. By 1927, the Oelwein Library joined the American Library Association and was a member for many years.
The building fund had grown to $18,846 by 1927. The board hired Raymond F. Moore of Cedar Rapids as architect for the proposed new building. General contractor was J. C. Mayer of Clarion, Iowa. Carsten Brothers of Ackley, Iowa was low bidder for all mechanical work, and Conkey Co. was contracted for the brick siding. The cornerstone was laid on June 15, 1929 at 22 1st Avenue N. W. in Oelwein, and the building was completed in October at a cost of $40,000.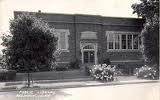 On October 28, 1929, a dedication and open house was held. Judge Truman Stevens of the Supreme Court of Iowa, and Miss Julia Robinson of the State Library Association addressed the crowd. The high school and parochial schools attended the event. Music selections were performed by a male quartette, the Oelwein Drum Corps, and the high school band. Board members were Robert Connor, Mrs. A. C. Wilson, Miss Mary Wood, George W. Falk, and E. R. O'Brien. The salary of the librarian was increased to $100 per month and assistant to $50.
In 1946, Miss Ruth Tabor assumed librarian duties. The material collection grew to 12,856 volumes. In 1951, a children's room was created in the lower level, and in 1961, the Northeast Iowa Association decorated the walls with murals.
In 1964, county money was obtained to provide library services to rural areas of Fayette County. In 1965, an Oelwein bond issue of $38,000 allowed remodeling of the adult section that included installation of a balcony, a new office, a new circulation desk, new carpet, and many new bookshelves. An open house occured in April of 1967.
In 1973, Oelwein's centennial year, Mrs. Doris Felix became librarian and Mrs. Paul Doughty was children's librarian. Doris Felix resigned in 1982 and Vivian Petrik assumed the duties of library director.
In February of 1988, Harold Ziegler left a bequest of $321,062 to the library. The library board invested this gift, but set aside a portion for special library enhancements and projects. Every year, the library places a Memorial Day flower arrangement on the Ziegler's grave.
The 1990's was the decade for introducing computers and the internet. By 1998, the library offered five public computer stations and installed the first automated circulation system.
In 2002, the library held a reception for acclaimed author, Donald Harstad and hosted Iowa's first lady, Christie Vilsack when she stayed in Oelwein with RAGBRAI.
In 2005, the Board of Trustees purchased property at 201 East Charles Street to build a new library. Board members were President Steve Peik, Linda Ridihalgh, Dennis Pixler, Dianne Frazer, Lori Leo, and Mike Kerns, City Council Liaison. The 14,900 square foot, new building would have double the space, geothermal heating and cooling, and would be completely handicap accessible. Novak Design Group of Cedar Rapids was chosen as the architect, and Larson Construction of independence was chosen as the General Contractor.
Ground was broke on August 3, 2005, and the building was completed in July of 2006 at a cost of approximately $2.9 million. On July 25, the building opened with a flag-raising ceremony and 350 guests. The original circulation desk from the 1929 building found a home in the children's area of the new library.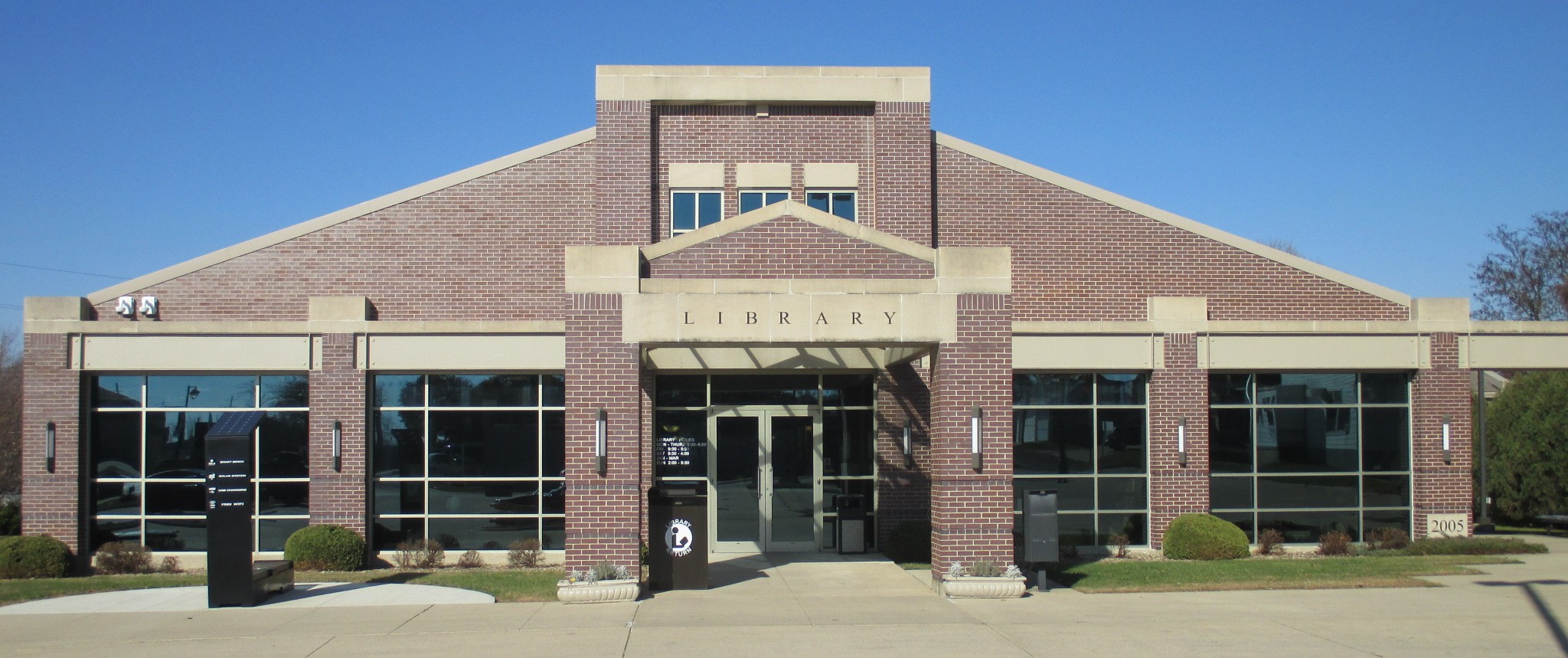 Susan Macken, the current library director, began her position in September of 2006 upon retirement of Vivian Petrik. With the opening of the new building with handicap accessibility, the library became a fully accredited library by the State Library of Iowa. The Oelwein Public Library Friends of the Library was organized in 2007 and the Oelwein Public Library Foundation was established in 2009. Both of these active organizations support the library in providing services to the community. They share the sponsorship for the Dolly Parton Imagination Library program in giving books to young children.
The library joined the digital age in offering wireless access to the internet, a webpage with an online catalog, apps for downloading eBooks, audio, and movies, and digitized all the historical Oelwein Daily Register newspapers for easy access. An outdoor digital sign was installed to advertise events. A fingerprint checkout system offered an optional identification system beyond the library card.
The library celebrated its 100th anniversary on May 8, 2011. Enhancements were added in the ensuing years. A number of beautiful stained glass windows were designed, produced, and installed by Connie Kerns, Jake Blitsch, and Marty Kajewski. A reading garden was designed by StewartScapes that utilized native plants, a water feature, a pergola with benches carved from Anamosa Limestone, and an accent wall of limestone blocks salvaged from the main railroad repair shop building. Modern conveniences included a solar powered device-charging bench, a Hush study pod, and the first electric vehicle car charging station offered by the City of Oelwein. Solar panels were installed on the library roof.
From 2017 up to 2023, a number of library services for patrons evolved. Patrons could register for a library card online to access downloadable content, library staff were trained as Passport Acceptance Agents, payments through credit cards were accepted, and library fines were eliminated! Unique items were available for check-out including cake pans, tablets pre-loaded with educational games, puzzles, and American Girl dolls complete with a wardrobe of clothing. Quality programs offered ranged from famous children's author, Eric Litwin, to a number of traveling exhibitions sponsored in part by the American Library Association on space, civil rights, American history, and human origins. An outdoor musical instrument garden was installed in 2023.
The Oelwein Public Library has served citizens and has been supported by citizens since 1911. Our goal is to honor our storied past, enrich present lives, and encourage life-long learning.

Interested in more history? Check out the Iowa Historical Society.