Signing up: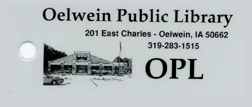 All Iowa residents may sign up for an Oelwein Public Library card at the circulation desk or sign up online by clicking the Catalog and Account Log In the flag at the top of the page. Click on card number box and follow the directions in the pop-up window.
To apply for your card, you will need:
Photo identification
Proof of current address (if your ID does not include current address, bring a pre-printed piece of mail.
ex: bank statement or utility bill with your name and new address.)
Juvenile cards:
Issued to patrons 3 years of age through 6th grade. Must be able to write own name.

Registration must be signed by a parent or legal guardian.
Online Library Card Registration Available:
Register for a library card online on the library's card catalog page. Click on the box asking for card number then fill out the online form in the pop-up window. Upload your photo identification to email. After approval, library staff will send you a library card number that is valid for online check outs and e-resources only, such as, Bridges and Hoopla.
Out-of-state non-residents will be assessed an annual fee of $20.00 for a library card.